Eyeglasses cloth has the function of maintaining and maintaining eyeglasses. With the constant changes of raw materials such as eyeglasses and lenses, the material of eyeglasses cloth has also been changed. Microfiber material has now replaced the original ordinary eyeglasses cloth. At present, in addition to cleaning glasses, glasses cloth can also be used to scrub jewelry, fine instruments, watches, CD, furniture, cars, musical instruments, mobile phones and so on.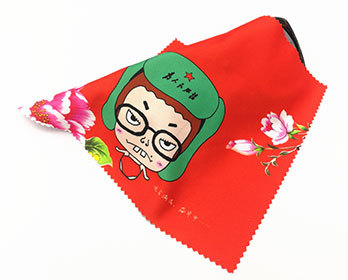 Microfiber eyeglasses cloth can be washed about 600 times, which greatly improves the durability of goods. The new microfibers consisting of polyester and nylon have stronger resistance than natural fibers and regenerated fibers. They are not easy to fall off when they are used. They will not fur even if they are used more than 2000 times, and can be used repeatedly and cleanly.
Usually, the style of the eyewear in the shopping mall is very rich, such as facing the consumption of children, often decorating with cartoon pictures on the eyewear. For the old collectives, they are more serious in color, pattern and style, and related to the needs of the young collectives for fashion. At present, the different styles of eyeglasses cloth in the shopping mall can be described with a wide range of eyes.
The modification of eyeglasses cloth is indeed rich and colorful, from raw materials to tricks and other aspects, many changes have taken place, but as one manufacturer said, the key is still to capture the consumer's demand according to the changing characteristics of eyeglasses, according to different consumption groups to describe the manufacture of eyeglasses cloth, so as to make the eyeglasses cloth. Only then has the characteristic.